Basement Defender 2.4Ghz WiFi router reboot and manual WiFi pairing
The new Basement Defender now comes with it's own 2.4Ghz WiFi yellow router and network to auto connect to the your Basement Defender device. The advantages are you no longer need to manually pair your Basement Defender device to your network, now, or if you change carriers or passwords. It will not slow your network as minimal data is being transferred.
See blog here: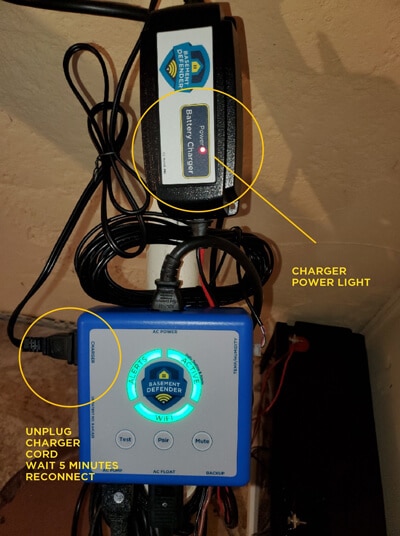 The yellow Basement Defender 2.4GHz mini router plugs into an available LAN port on the back of your home's WiFi router and a power outlet (See enclosed image).
Once the router is connected and powered, it can connect immediately to your Defender or take up to 20 minutes to connect, depending on the speed of your network.
If you become disconnected from the internet, your WiFi light will turn red and you will get a WiFi alert (with a plan).
To reconnect the WiFi to your Basement Defender follow these steps:
At your home's network WiFi router:
There should be a little yellow box with the Basement Defender logo that is plugged into the black of your WiFi router – (See enclosed image).
Unplug both power cord and ethernet cord to the Basement Defender yellow box,
Wait 10 seconds
Then plug back in.
Give it 5-10 min for the BD unit's WiFi section to turn green.
IF THIS DOES NOT WORK:
You can manually pair the yellow BD Network 2.4GHz router.
Follow these instructions.
Log out of the app from the top right hand corner.
Open the app and click on the yellow device setup button
Only enter the serial number with the zeros – DO NOT ENTER YOUR EMAIL ADDRESS or it will think you are registering, but you are already registered and cant register twice!
Push and hold the center button on the device until you hear 1 beep- release the button. The ring light should turn blue.
Click next on the bottom of the app screen.
From the network drop down find BDnetwork from the available networks.
If it does not show up, then either you are too far away from the router or the BD is not in pairing mode with the lights being blue.

You can determine this by looking at the networks available on your phone, not in the app.

Select the BD network and enter this password BDadmin123 – it is case sensitive.
Wait till you get a success or failure screen – If you get a failure you can try pairing to your home 2.4GHz network or contact your dealer for support.