In 2004 the Institute of Medicine (IOM) found there was sufficient evidence to link indoor exposure to mold with upper respiratory tract symptoms, cough, and wheeze in otherwise healthy people; with asthma symptoms in people with asthma; and with hypersensitivity pneumonitis in individuals susceptible to that immune-mediated condition. Other recent studies have suggested a potential link of early mold exposure to development of asthma in some children, particularly among children who may be genetically susceptible to asthma development, and that selected interventions that improve housing conditions can reduce morbidity from asthma and respiratory allergies.
https://www.cdc.gov/mold/faqs.htm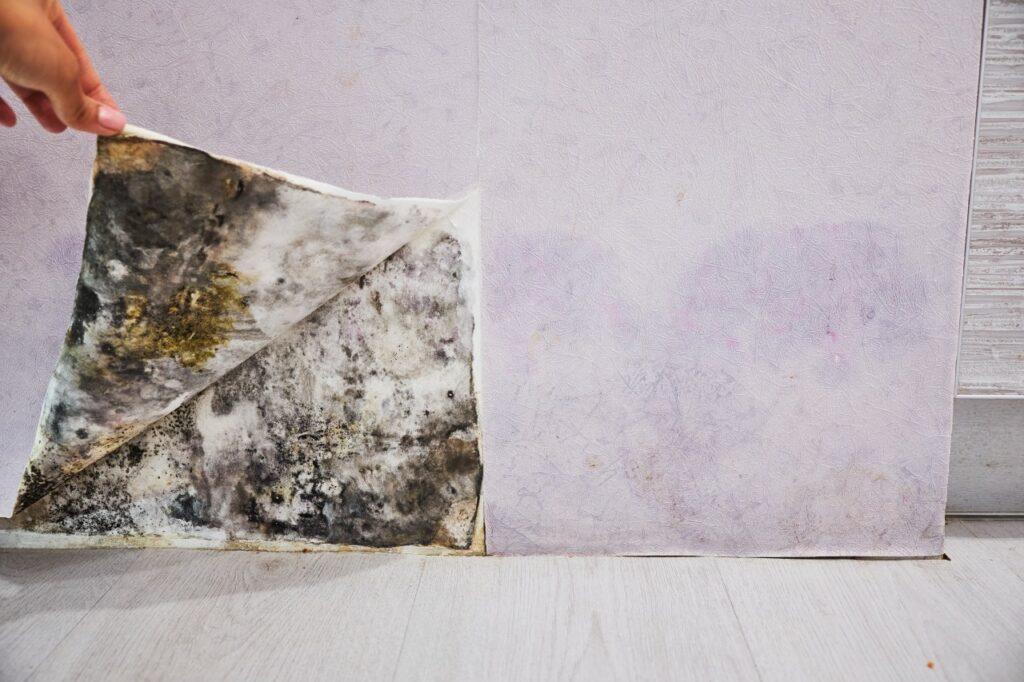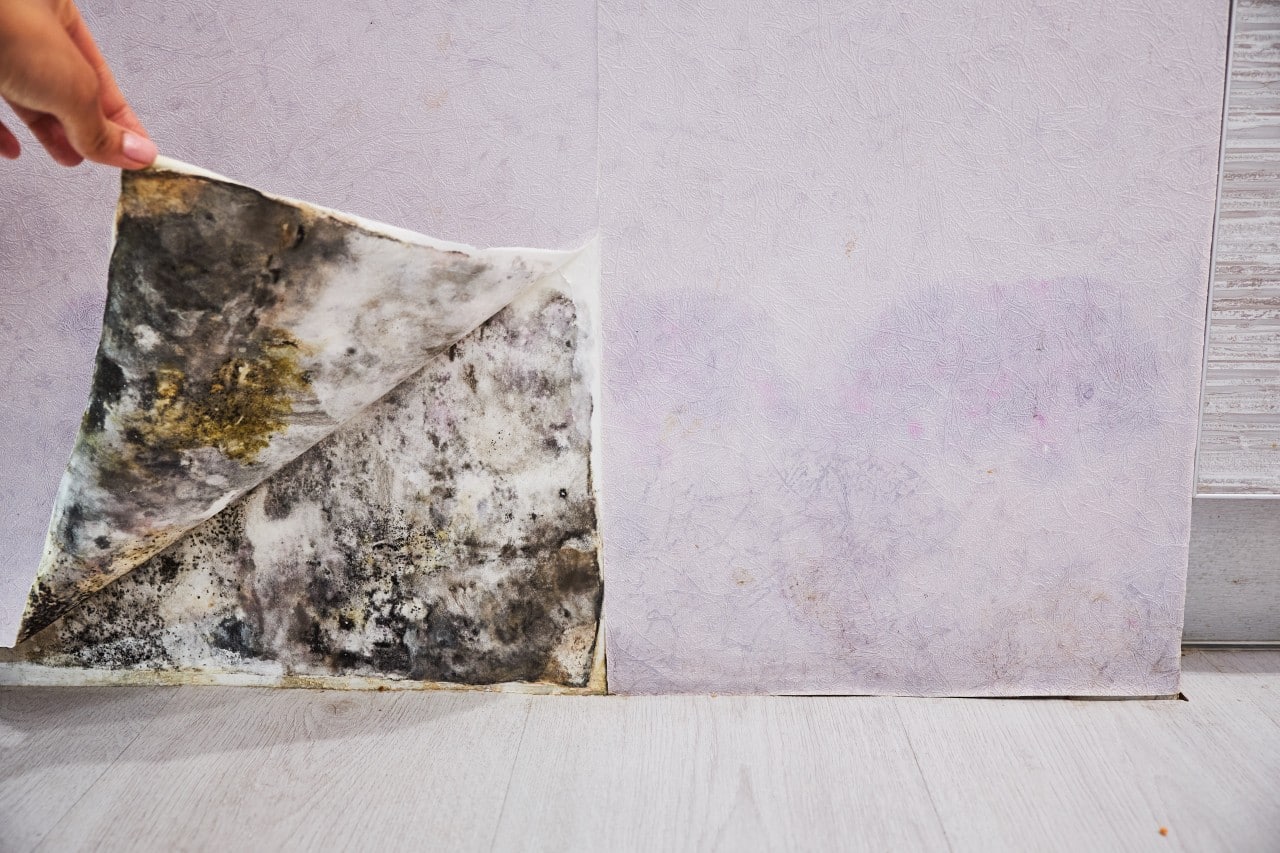 If you look hard enough you can see slimy black spots on your shower curtain, the fuzzy white patches on your basement floor, or the slick orange film that forms on your kitchen drain. In some cases, mold in your home can make you sick, especially if you have allergies or asthma.
The most common indoor molds are Cladosporium, Penicillium, and Aspergillus. Certain molds are toxigenic, meaning they can produce toxins (specifically "mycotoxins"). Hazards presented by molds that may produce mycotoxins should be considered the same as other common molds which can grow in your house. Not all fungi produce mycotoxins and even those that do will not do so under all surface or environmental conditions. Any mold should be removed and the moisture source that helped it grow should be removed.
There are some reports that toxigenic molds found inside homes can cause unique or rare health conditions such as pulmonary hemorrhage or memory loss.
What is red mold?
 Mold is a type of fungus that grows indoors and outdoors. It thrives in moist, warm conditions so it's typically found around water leaks. It may also be found on food, drywall, and fabric.
Because red mold is different in color, one misconception is that it's its own mold species. But red mold isn't a specific type of mold. The name simply refers to its appearance.
Interestingly, any type of mold can become red at some point, as it's not unusual for mold to change colors. Therefore, black mold, green mold, and even white mold can become red over time, and vice versa.
Although red mold isn't its own species of mold, certain types of mold are more likely to turn red. This includes Aspergillus which is mostly found in bathrooms and grows on water-damaged materials. Also, Neurospora which grows on food, and Fusarium which grows on plants and in soil.
Some people use the terms pink mold and red mold interchangeably. But while the two are similar in appearance, pink mold isn't the same as red mold.
Red mold is a fungus, whereas pink mold is actually a water-borne bacterium commonly found in bathrooms.
What exactly is black mold?
"Black mold" refers to several species of mold (which is a type of fungus) that have a dark green or black appearance. One such type is Stachybotrys chartarum. The color of a mold isn't associated with how dangerous it may be, according to the Centers for Disease Control and Prevention (CDC
I found mold growing in my home; how do I test the mold?
If you can see or smell mold, a health risk may be present. You do not need to know the type of mold growing in your home, and CDC does not recommend or perform routine sampling for molds. No matter what type of mold is present, you should remove it. Since the effect of mold on people can vary greatly, either because of the amount or type of mold, you cannot rely on sampling and culturing to know your health risk.
Mold Reactions: Who's at Risk?
For people sensitive to mold, inhaling or touching mold spores can cause allergic reactions, including sneezing, runny nose, red eyes, and skin rash. People with serious mold allergies may have more severe reactions, including shortness of breath. In people with asthma who are allergic to mold, breathing in spores can also cause asthma attacks.
In addition to people with allergies and asthma, others who may be more sensitive to the effects of mold include:
Infants and children
The elderly
People whose immune systems are compromised due to HIV infection, cancer, liver disease, or chemotherapy
People with chronic lung disease
Inside your home you can control mold growth by:
Controlling humidity levels;
Promptly fixing leaky roofs, windows, and pipes;
Thoroughly cleaning and drying after flooding;
Keep humidity levels as low as you can—between 30% and 50%–all day long. An air conditioner or dehumidifier will help you keep the level low. Bear in mind that humidity levels change over the course of a day with changes in the moisture in the air and the air temperature, so you will need to check the humidity levels more than once a day.
Use an air conditioner or a dehumidifier during humid months.
In basements and crawl spaces:
If you have a sump system get a Basement DefenderTM that monitors humidity levels in your basement or crawl space and will notify you if your humidity level goes above 55%.
Put a plastic cover over dirt in crawl spaces to prevent moisture from coming in from the ground. If there is standing water or the soil is wet, dry it out with fans before covering the floor.
Be sure crawl spaces are well ventilated by using fans and having vents installed in outside walls if necessary.
Consider painting concrete floors and using area rugs instead of wall-to-wall carpet in basements. If you plan to install carpet over a concrete floor, it may be necessary to use a vapor barrier (plastic sheeting) over the concrete and cover that with sub-flooring (insulation covered with plywood) to prevent a moisture problem.
Moisture and Mold Problems: Preventing and Solving Them in Your Home.